Innovation programs are far from being a one-and-done endeavour but rather solid and continuous. So how do you accelerate and scale your company's innovation process efficiently? Here are some valuable tips from our favorite innovation leaders.

Define and Improve Innovation Process
Needless to say, it would be impossible to scale an idea if it hasn't been defined. According to Courtney Wood, Innovation Management Director, it is essential that a company thinks about the common purpose and goals of its innovation program and the different mechanisms needed to reinforce its target goals. Furthermore, she also added that the company should carefully consider the different levels of funding needed to move an innovation program forward.
Don't Run Before You Walk
We've seen several programs that have tried to scale before having the infrastructure and support in place to scale and it caused the death of programs with high potential. According to innovation leader, Coby Skonord, if you try to run before you walk, you're setting yourself for failure. No one knows when you should scale. But you should watch out for signs. Depending on your set goals and where you are with the metrics that matter for you and how you want to see progress on those measures, you can scale anytime. Coby also advised to take on projects through a process that resulted in tangible ROI at least 2 life cycles before scaling.
Bring Decision Makers on Board
Align stakeholders and decision makers with your innovation program. While initially it's tough to get everyone to embrace innovation programs, once they see their top leaders advocating innovation efforts, breaking through the doubt wouldn't be as difficult. Kuhan Milroy, Director of Social Business Innovation, encourages to push past the fear of failure and embrace mindset shifts that would empower everyone to take risks.
Own Your Place in the Big Future
The business landscape is changing and your company should adapt to that ever-changing landscape from analog to digital. Imagine future possibilities and scale slowly. Managing change and innovation, and owning your place in the big future may seem daunting but if you continue lean practices and never lose sight of the process you've designed as you scale, you'll get there in no time.
Let us help your company establish a healthy innovation ecosystem, check out our award-winning idea management software.
Here is an infographic that sums up how you could scale your innovation program.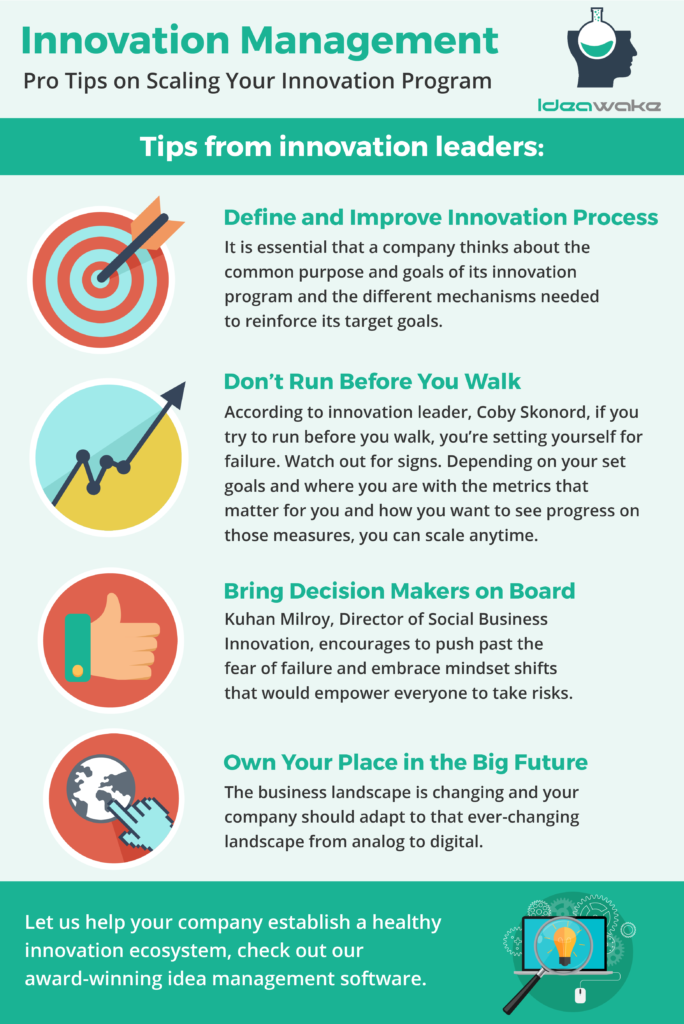 Share this Image On Your Site